June 14 2023
Shravan Month Festivals 2023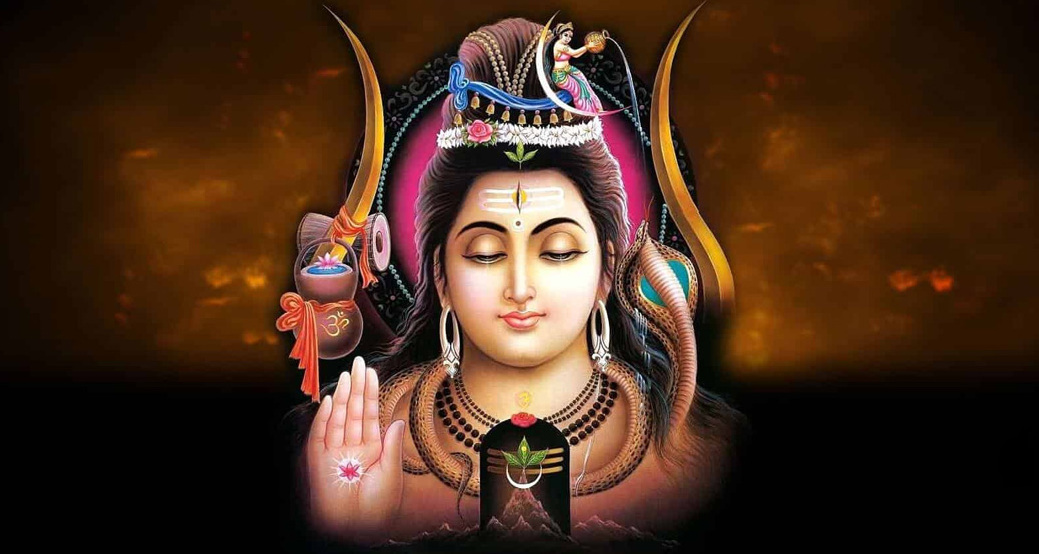 The list of festivals comes in the holy Shravan month festivals 2023 also how to celebrate and how to do puja and many more !!
1) Shravan month start & end date with holy somvar date too.
2) Types of fasts observed during the shravan month.
3) The significance of lord shiva in shravan somvar.
4) Significance of each day in shravan maas
5) Things to do in shravan month
6) Sawan vrat: mantra
7) Shiv puja rituals/puja vidhi on the holy shravan month somvar.
8) Sawan somvar vrat katha in the shravan month 2023
9) Solah somavar vrat vidhi/rituals & importace
10) Raksha bandhan 2023 date, thread ceremony muhurta & history
11) Janmashtami 2023, date and time of puja vidhi 2023, janmashtami origin | significance, how to celebrate janmashtami, mantras of pooja in janmashtami, krishna janmashtami puja vidhi with mantra, aarti of janmashtami, don't do these things on janmashtami.
1) In holy shravan month festivals 2023 shravan month start & end date with holy somvar date too.
Shravan 2023 date: the month of sawan is dear to shiv ji, when will it start and end, know the exact date of shravan month here
Shravan 2023 date: the month of sawan is the beloved month of lord shiva shankar. bholenath fulfills all the wishes of his devotees by performing proper worship and fasting in this month. know the correct date of savan month.
the month of sawan is considered very good for worshiping lord bholenath. throughout this month, devotees perform puja on the shivling and observe fast on the monday that falls in savan. kanvar yatra is also conducted in this month.
but this year the month of sawan is going to be very special in many ways. because this year the month of sawan will be full 59 days and devotees will fast for full 8 sawan mondays. in fact, two months of sawan are happening this year due to extra months, which has a special religious significance. according to astrology, after 19 years in the hindu panchang, there is a yoga in which two months will be sawan. do you know when the month of sawan will start this year and when it will end?
Shravan month festivals 2023- Shravan month 2023 dates for Uk
Shravana Somwar vrat dates 2023 in UK
Shravan month start date: July 18, 2023, Tuesday
First shravan somwar vrat
24th July 2023, Monday
Second Shravan Somwar vrat
31st July 2023, Monday
Third Shravan Somwar vrat
7th August 2023, Monday
Fourth Shravan Somwar vrat
14th August 2023, Monday
Shravana adhika maas ends
16th August 2023, Wednesday
first shravan somwar vrat
21st August 2023, Monday
second Shravan Somwar vrat
28th August 2023, Monday
third Shravan Somwar vrat
4th September 2023, Monday
fourth Shravan Somwar vrat
11th September 2023, Monday
Shravana ends
14th September 2023, Thursday
2) Types of fasts observed during the Shravan month – Shravan month festivals 2023
partial fasting: in partial fasting, the devotees are allowed to eat fruits and foods like Sabudana, nuts, etc. some people also keep fast during the day and eat at night.
austere fasting: in this kind of fasting, devotees do not eat anything during the day and only consume water. they break their fast after sunset by eating a meal that does not have onion and garlic.
3) The significance of Lord Shiva in shravan somvar
shravan month festivals 2023 – according to the hindu legends, in the conflict between the devas and the asuras, poison emerged from the water. lord shiva drank all the poison to rescue the human race. this incidence took place in the shravan month. due to this, lord shiva's body temperature rose considerably. then lord shiva donned the moon on his head, which helped to lower his temperature, and all the hindu gods poured gangajal on lord shiva, which is also followed today by the devotees.
It is also said that lord indra wanted the temperature of lord shiva to drop, and hence the rains poured excessively. that soothed lord shiva and eased him. since that time, lord shiva is honored and water is poured over lord shiva during the month of sawan, especially on mondays.
4) significance of each day in shravan maas
Each day of this month carries spiritual significance.
• monday: is the day to worship lord shiva.
• Tuesday: women worship gauri for the better health of their family.
• Wednesday: is dedicated to vithala, an incarnation of lord vishnu or krishna.
• Thursdays: are for worshiping buddh and guru.
• Friday: for worshiping lakshmi and tulsi.
• Saturdays: are for saturn (shani dev). these days are also known as shravan saturdays or sampat sanivara (wealth saturdays) as one can pray for obtaining wealth.
• Sundays: are for the sun god. sun worship was common practice in the vedic period and it is followed even now. especially in shravan, every sunday the sun is worshipped.
5) Things to do in shravan maas
1. Rudra abhishek
"rudra" means the one who is terribly infuriated, which is one of the divine qualities of lord shiva who displays it while performing his cosmic dance. tandava for the annihilation of creations shiva. by the virtue of this quality, is called rudra. abhishek means a method of worship offered to the divine
For cleansing all the misgivings, sins of the worshiper
performing shiva abhishek includes the offerings of panchamrit (mix of milk honey, sugar, ghee and curd. ganga jal, ghee. bael patra (bilva leaves), dhatura and other sacred items dear to lord shiva. rudra abhishek purifies your mind and body, offers peace, fulfills your desires and enlightens your soul.
2. Fasting
During shravan maas devotees mostly undertake four types of vrats (fasts) which are sawan somwar vrat, solah somwar vrat. pradosh vrat and mangala gauri vrat
• Shravan somwar vrat – sawan somwar vrat is observed on every monday (somvar) in the month. there are mostly 4 mondays during shravan and sometimes there are 5.
• Solah somwar vrat – it is observed by young girls to find the most ideal husband. they fast for 16 consecutive mondays starting from the first monday of this month.
• Pradosh vrat – pradosh vrat is observed on the 13th day (trayodashi tithi) of both krishna paksha and shukla paksha. the thirteenth day is considered extra special for invoking and worshipping lord shiva. on this day devotees keep a strict fast and perform shiva puja during the pradosh kaal.
• Mangala gauri vrat – mangala gauri vrat is observed on tuesdays in the shravan maas. the fast is observed for happy married life and wellbeing and long life of the partner. • shani vrat – shani vrat is observed on saturdays during the shravan maas primarily for pacifying lord shani and gaining his blessings.
3. Worship of lord shiva
devotees should wake up early preferably during brahma muhurat. clean the puja altar, take a bath and wear clean clothes. purify the house with water mixed with ganges water. take sankalpa to observe the fast.
perform abhishek ritual on the shivalinga. it is believed that lord shiva is pleased even with simple offerings of wild creepers and flowers which are easily available such as aak flowers, bel leaves and datura. offer bhasma, sandal paste. lotus flowers and rudraksha beads during prayers.
one may chant the following shiva mantras using a rudraksha rosary or silently in mind. chanting may be done at specified time and with specific number of counts (108 times or multiples of it) in the morning or evening, or you may do ajapa-japa, a silent repetition of the mantra throughout the day.
6) Shravan vrat: Mantra
Shravan vrat is also part of the shravan month festivals 2023 while fasting in the shravan month, several devotees chant the mantra of "om namah shivay" and mahamrityunjaya mantra to get rid of all the diseases.
you can also worship a mahamrutyunjay mantra to fend off the negativity from your life, evil, black magic, and even untimely death.
1. Panchakshri mantra
om namah shivaya
one of the most powerful mantras is to praise lord shiva. chanting om namah shivaya 108 times every day helps in developing concentration and provides divine energy.
2. Shiva gayatri mantra
om tat purushaya vidmahe, mahadevaya dhimahi, tanno rudra prachodayat regular chanting of this mantra eliminates all kinds of fear and keeps anxiety at bay.
3. Rudra mantra
om namo bhagavate rudraya.
This powerful mantra is recited to get the blessing of the merciful lord and is considered effective for the fulfillment of one's desires.
4. Mahamrityunjaya mantra
om trayambakam yajamahe, sugandhim pustivardham, urwarukmivbandhanaan mrityormuksheey mamritaat
Hindu scriptures describe that reciting this powerful mantra 108 times, keeps the devotee free of all diseases and provides health. wealth, and vitality.
5. Mantra/prayer for aarti
Karpur gauram karunavataram, sansara saram bhujagendra haram sada vasantam hridayaaravinde, bhavam bhavani sahitam namami.
Shravan month is considered to be the most auspicious month. lord shiva is worshiped during this month, let's devotion and take blessings from lord shiva on this holy shravan month by doing this…
* Shiv maha puran
* Shiv swaroday
* Shiv gita
* Sansar gita
* Shiv rudri puja
* Shiv rudrabhishek
Call now for any of these services: +44 079 0373 5365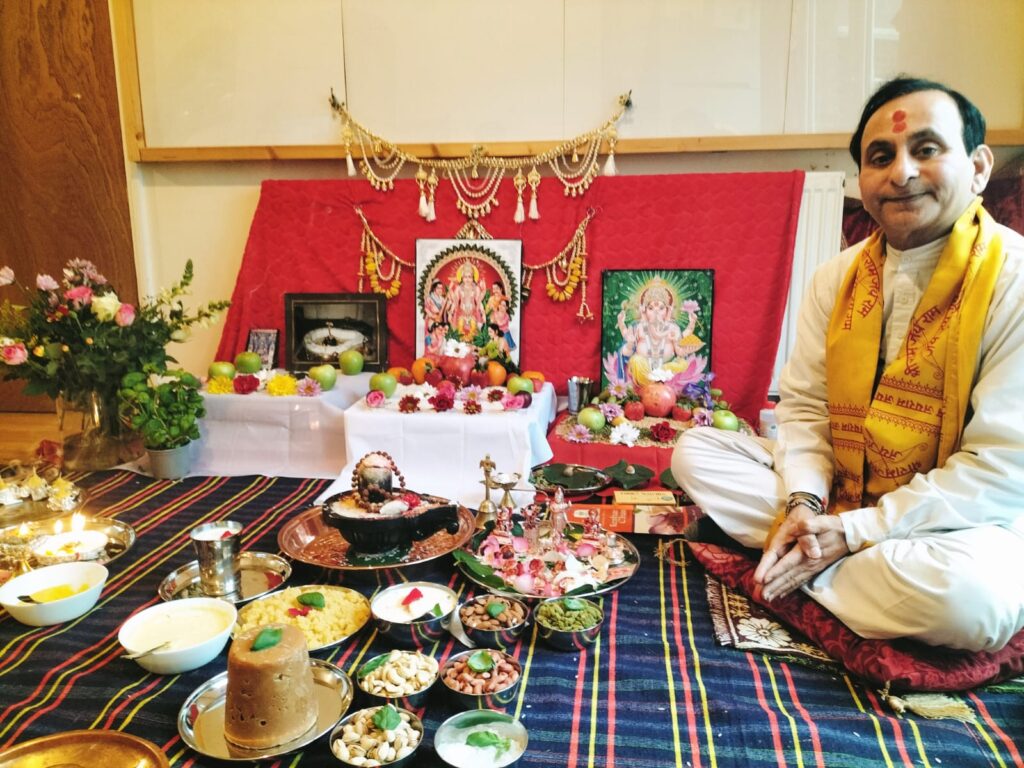 7) Shiv puja rituals/puja vidhi on the holy shravan month somvar – Shravan Month Festivals 2023
Shravan month festivals 2023 – as per the belief, it is said that it is easy to please lord shiva among all the gods. thus, to attain his grace, perform the rituals given below. if you are going to keep fast the whole shravan month then also you can follow this ritual the whole shravan month.
– wake up early in the morning and take a bath on sawan somwar day.
– you must then visit shiv mandir or perform an authentic rudrabhishek puja in your own house with proper rituals.
– The bel leaves, datura, gangajal, and milk are important puja materials.
– Shivling is anointed with panchamrit.
– Ghee-shakkar is offered to lord shiva.
– then pray and perform the aarti.
– after puja is completed, distribute the prasad.
9) Shravan somvar vrat katha in the shravan month festival 2022
According to the skanda purana, sawan vrat katha goes like this;
once, goddess sati made a dramatic decision to go against her father to marry lord shiva. she married him but gave up her life when she witnessed shiva, her husband, being humiliated at her father's place. she was later reincarnated as goddess parvati, the daughter of parvat raj himalaya and naina. she carried out a severe penance and tapasya all month long to make him her better half. as a consequence, she achieved her goals and came to shiva as his adored partner.
that is why many people still follow this practice, and girls observe fast for sixteen consecutive mondays (solah somvar) to get partners like lord shiva.
10) Solah somavar vrat vidhi/rituals & importance – shravan month festivals 2023
what is solah somwar vrat?
unmarried people, primarily women, observe the solah somvar vrat to seek lord shiva's blessings and pray for an ideal husband. however, married couples, who have troubled marriages, also keep the solah somwar vrat. the vrat begins on the first shravan somwar (monday) and continues till the sixteenth consecutive monday. solah somvar vrat considered in shravan month festivals 2022
when to begin monday fast?
shravan month festivals 2022 – it is believed that monday fasting will be very fruitful if started from the first monday of shukla paksha of shravan month (june-july). four or five monday fasting can be done in a go. and as per willingness, the person can continue this fast till 16 weeks of monday starting from shukla paksha ( waxing period of the moon) of shravan month.
solah somvar vrat also can be started in the month of kartik or karthika mas. but a simple monday fast can also be started from the first monday of shukla paksha of hindi months – chaitra, baisakh, kartik, and margsheersh.
procedure to follow during solah somvar vrat :
one can ideally begin the fast on the first monday of the bright half of shravan, chaitra, vaishakha, jyeshtha, kartika, or margsheersha months of the lunar calendar and continue for the next 16 mondays he/she must take a vow of observing fast for 16 consecutive mondays with devotion and complete faith towards the almighty and not give it up carelessly in between.
Early morning routine: the vrat begins with waking up early in the morning and taking a holy bath, one should add black til-sesame seeds to this water. if possible, sprinkle ganga jal in your house to purify the atmosphere.
Solah somvar fasting worship time
worship of solah somvar fast is certain! the day of solah somvar vrat puja time begins at 04:00 pm. the same time & worship should be done every monday!
16 Monday lent worship ingredients
Flowers, punch fruits punch nuts, gems, gold, silver, dakshina, pooja utensils, misrule, yogurt, pure desi ghee, honey, ganga water, holy water, punch juice, perfume, scent roli, molly janeu, punch sweets, belpatra, dhatura, cannabis, ber, amr manjari, barley ears, tulsi dal, mandar flower, raw milk of cow, reed juice, camphor, incense, deep, cotton, malayagiri, sandalwood, makeup ingredients of shiva and mother parvati etc.
Sixteen monday fasting worship resolution method || solah somvar vrat puja sankalp vidhi
In order to start any worship or fast, one must first make a resolution. resolution is made on the first day of solah somvar vrat puja. after that, you do regular solah somvar vrat puja and fast. first take water, akshat, betel leaf, betel nut, and some coins in hand and resolve with the following mantra:
ॐ विष्णुर्विष्णुर्विष्णुः । श्री मद्भगवतो महापुरुषस्य विष्णोराज्ञया प्रवर्तमानस्यादद्य श्रीब्रह्मणो द्वितीयपरार्द्धे श्रीश्वेतवाराहकल्पे वैवस्वतमन्वन्तरेऽष्टाविंशतितमे कलियुगे प्रथमचरणे जम्बूद्वीपे भारतवर्षे भरतखण्डे आर्यावर्तान्तर्गतब्रह्मावर्तैकदेशे पुण्यप्रदेशे बौद्धावतारे वर्तमाने यथानामसंवत्सरे अमुकामने महामांगल्यप्रदे मासानाम् उत्तमे अमुकमासे अमुकपक्षे अमुकतिथौ अमुकवासरान्वितायाम् अमुकनक्षत्रे अमुकराशिस्थिते सूर्ये अमुकामुकराशिस्थितेषु चन्द्रभौमबुधगुरुशुक्रशनिषु सत्सु शुभे योगे शुभकरणे एवं गुणविशेषणविशिष्टायां शुभ पुण्यतिथौ सकलशास्त्र श्रुति स्मृति पुराणोक्त फलप्राप्तिकामः अमुकगोत्रोत्पन्नः अमुक नाम अहं अमुक कार्यसिद्धियार्थ सोलह सोमवार व्रत प्रारम्भ करिष्ये ।
solah somvar vrat puja vidhi:
on monday fasting day, after getting up in the morning and retiring from daily activities, clean clothes are worn. after this, the pooja temple or pooja place of the house is cleaned and the lamp is lit there. all the deities are meditated and anointed with water. gangajal or raw milk is offered on shivling. then flowers are offered to lord shiva. at the same time, they are also offered belpatra. this is followed by indulgence in lord shiva. in the end, aarti of lord shiva and mother parvati is performed.
Chant this mantra in fasting and worship:
you can also chant this mantra while worshiping. this will give you the infinite grace of lord bholenath.
उं शिवशंकरमीशानं द्वादशार्द्धं त्रिलोचनम्।
उमासहितं देवं शिवं आवाहयाम्यहम्॥
The puja on solah somvar is performed in the evening during the pradosh period, i.e. you should start this puja around 4 o'clock in the third noon of the day. your puja should be completed before sunset. in this way, puja is mainly considered fruitful. the man or woman performing this fast should eat only once.
It is believed that monday is the day of the moon and the controller of the moon is lord shiva, so worshiping on this day brings not only the moon but also the grace of lord shiva. there is a belief that if virgin girls perform this fast regularly, then they get a good groom and their desires are fulfilled.
mantras to chant during the day it a compulsion to read the solah somvar katha (story) every monday during puja followed by any of the above mantras :
solah somvar vrat katha
once upon a time, shri bhagwan mahadev ji came with mother parvati, wishing to live in the world of death. amravati city of vidarbha country, which was full of all pleasures, there was a very beautiful shiva temple by the king, where he started living. once parvati ji wished to play chaucer. then on the entry of the priest into the temple, mother asked who would win in this battle? so the hindu priest said that of mahadev ji. but parvati won. then he cursed the hindu priest to be a leper for the crime of lying. after many days, the apsaras of devlok, came to that temple and seeing him asked the reason. the hindu priest without hesitation told everything.
then the apsaras were consoled and told to keep fast on sixteen mondays.
on asking about the method, he also told the method as above. with this, by the grace of shiva, all the desires are fulfilled. then the apsaras went to heaven. the hindu priest lived his life free from diseases by observing a fast on mondays. a few days later, on the arrival of shiva parvati, parvati ji asked the reason for her recovery. then the brahmin narrated the whole story. then parvati ji also observed the same fast and her wish was fulfilled. his estranged son kartikeya became obedient to his mother. but kartikeya ji asked the reason for his change of mind. then parvati ji told the same story to him too. then swami kartikeya ji also observed the same fast. his wish also came true.
after asking him his friend hindu priest observed the same fast. then that hindu priest went abroad and went to a kingdom's swayamvara. there the king had vowed that an elephant would marry a garland around whose neck he would marry his daughter. there, by the grace of shiva, the elephant put the garland around the hindu priest's neck. the king got his daughter married to him. on asking the girl, the hindu priest told her the story. then that girl also observed the same fast and got a beautiful son. later that son also observed the same fast and got the kingdom of an old king. when the new king went to worship on monday, his wife did not go because of disbelief. on completion of the worship, akash said that rajan should leave this girl, otherwise she will be destroyed. in the end, he expelled the queen from the kingdom. that queen came to another city crying hungry and thirsty. there he met an old lady.
he found an old lady who made threads. she started working with him, but on the second day when she went out to sell the thread, suddenly there was a strong wind and all the threads flew away, then the mistress got angry and threw her out of work.
then while crying, she reached the house of a teller, the teller kept her, but on her way to the storehouse, the oil pots fell and the oil flowed out, then that teller threw her out of the house. in this way, after being removed from all the places, she reached a beautiful forest, when she grew to drink water from the pond, the pond dried up, and little water was left which was full of insects.
after drinking the same water, she sat under a tree, but immediately the leaves of that tree fell. in this way, the tree under which she passed would become devoid of leaves, just like the whole forest came to dry. seeing this, some shepherds took the queen to the priest of a shiva temple. there the queen told the whole thing at the request of the priest and after hearing the hindu priest said that you have been cursed by shiva.
when the queen requested and asked, the hindu priest told the remedy for its solution and told the method of fasting on monday. the queen completed the fast wholeheartedly and on the seventeenth monday due to the grace of shiva, the king changed his mind.
the king sent messengers to find the queen. after finding out, the king sent a call but the hindu priest said to send the king himself. the king thought about this and reached himself. reached the door with the queen and gave her place. happiness was celebrated in the whole city, the king donated a lot to the poor and, being a devotee of shiva, started fasting on 16 mondays and after enjoying all the pleasures of the world, he went to shivdham. in this way, whoever observes 16 Mondays with full devotion, he will attain supreme happiness in this world and finally attain liberation in the hereafter.
11) Raksha bandhan 2023 date, thread ceremony muhurta & history – Shravan Month Festivals 2023
Raksha bandhan on Wednesday, 30th August 2023
Raksha bandhan thread ceremony time – 04:31 pm to 09:56 pm
Shravan month festivals 2023 – Raksha bandhan is considered one of the most important festivals in Hinduism. the name, raksha bandhan, translates to 'protection bond', which signifies the promise to protect. on this auspicious day, sisters tie 'rakhi' around the wrist of their brothers.
history:
it is said that the festival gained popularity after rani karnavati, the widowed queen of Chittor, sent a rakhi to Mughal emperor humayun when she was in need of his help. it is also believed that Draupadi tied rakhi to lord Krishna. for more read our separate article on Raksha bandhan.
12) Janmashtami 2023 puja muhurt date etc – Shravan Month Festivals 2023
5250th birth anniversary of lord Krishna
Krishna Janmashtami on 6th September 2023 Wednesday
nishita puja time – 12:38 am to 01:21 am, sep 07
dahi handi on 7th September 2023 Thursday
how is Janmashtami celebrated?
The festival of janmashtami is celebrated with great pomp across the country. on this day, the beautiful makeup of lord Krishna is done and tableaux are taken out at many places. the special beauty of this festival is seen in Mathura-vrindavan, the birthplace of lord krishna. people from all over the country come here to see the beautiful sight of krishna janmashtami. there is also a tradition of swinging the child form of lord krishna on this day. on janmashtami, fast is kept for the whole day and the fast is broken after worshiping krishna at 12 o'clock in the night(more)
The conclusion
Shravan Month Festivals 2023-The Shravan month is the auspicious month and worshipping lord shiva. during this month with full dedication and devotion helps one to attain peace and progress spiritually. moreover, devotees receive the blessings of The omnipotent lord shiva. everyone is going through unprecedented times with the new normal. if you are also one of the struggling ones, worshipping lord shiva this holy shravan month will certainly help you overcome the challenges.