August 03 2021
Raksha Bandhan in UK
Raksha Bandhan Muhurt in UK
Thread Ceremony Time – 05:57 AM to 01:01 PM
Duration – 07 Hours 04 Mins
Raksha Bandhan Bhadra got over before Sunrise
Purnima Tithi Begins – 02:30 PM on Aug 21, 2021
Purnima Tithi Ends – 01:01 PM on Aug 22, 2021
Raksha Bandhan is a Hindu holy festival. Raksha Bandhan is celebrated in Shravana month during full moon day or Purnima day. The basic principle of Raksha Bandhan is to respect the bond between brothers and sisters. Indian priests can provide details and muhurta for any hindu festival. To know more about this Hindu festival, you can contact our Hindu priest Ketul Joshi. Hindu priests can guide you about all Hindu festivals.
The terms "Raksha Bandhan" literally mean "bond of security." Raksha Bandhan is recognized and celebrated among Hindus for its symbolic significance. Raksha Bandhan draws its significance from a sacred thread which is known as Rakhi. It is believed that the thread protects the one who wears it, especially during the auspicious time of Shravana Purnima. In India, Hindu priest goes to a home near the area of Hindu priest and Build a thread into people's Hands. It is belives that the thread is doing Raksha of people.
The best time to tie Rakhi on Raksha Bandhan is during Aparahna which is late afternoon according to the Hindu division of the day. If Aparahna time is not available then Pradosh time is also suitable to perform rituals related to Raksha Bandhan. you can ask about shubh Muhurta to Hindu priest. A Hindu priest will guide about all rituals of Raksha Bandhan.
Raksha Bandhan rituals should not be done during Bhadra. Bhadra is the malicious time that should be avoided for all auspicious work. Most Hindu religious texts, including Vratraj, advise avoiding Bhadra time to tie Rakhi during the Raksha Bandhan festival.
It should be noted that Bhadra prevails during the first half of Purnima Tithi. Hence one should wait for Bhadra to get over before starting any auspicious work. In North India, it is customary to tie Rakhi in the morning which might not be a suitable time to do it.
Some sources advise avoiding Bhadra Mukha and perform the Rakhi ceremony during Bhadra Punchha if it has to be done during Bhadra in the early morning. However, our team was not able to find any authority to validate this belief. The holiday's key activities include sisters wrapping a "rakhi," a kind of sacred cord, around their brothers' wrists. This is to show their affection for their brothers. In exchange, the brother provides his sisters with gifts that indicate his commitment to protect them.

As per Hindu rituals, Hindu priests can tie rakhi to all men and women. Hindu priest has a rights to tie a rakhi to anyone who has not sister. Hindu priests can tie rakhi to women for their protection and happiness and calm. On the day of Raksha Bandhan, Hindu priests go to everyone's home in the morning and tie a rakhi to women, men, and kids. on this day men or women during the puja in their's home mandir god's photos or statue tie a rakhi which is given by Hindu priests.
Raksha Bandhan Legends
According to mythology, the day's roots can be traced back to Lord Krishna cut his finger while flying a kite. Draupadi is said to have been so angered by seeing him in agony that she ripped a piece of fabric from her outfit and tied it around his finger. Krishna was moved by her story and vowed to protect her. When he guarded her against the Kauravas, he made good on his word.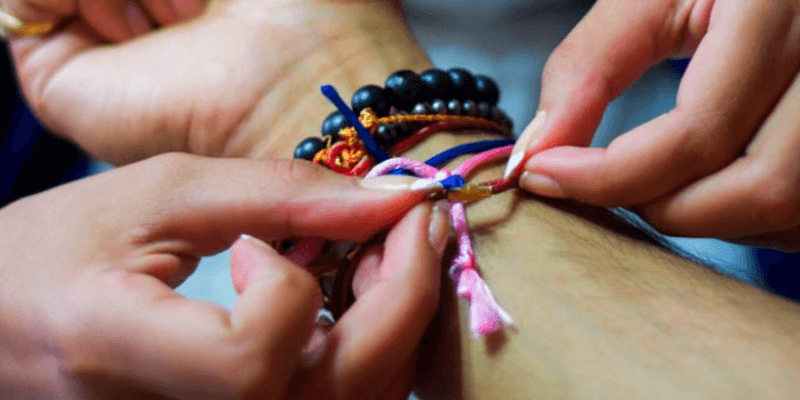 Another legend states that and is thought to be the explanation for the Raksha Bandhan festival. Lord Ganesha had two sons who demanded that he bring a sister to tie the rakhi around their wrists. Santoshi Maa was then created by Lord Ganesha, who bound rakhi to his sons. When there are so many stories to tell about how important the festival is, it's important to truly enjoy it. Furthermore, this offers a cause for families that live in various parts of the world to come together.
The legend mentioned in Bhavishya Purana is the most authenticated one. The legend of Bhavishya Purana is also mentioned in Vratraj behind the ritual of Raksha Bandhan.
The origin of Rakhi can be attributed to the most ancient legend of Goddess Indrani which narrates the power of sacred thread, when tied to Lord Indra, resulted in his victory over demons.
Ages ago, there was an intense battle between Gods and Demons. The intense battle continued for twelve years. At last, Gods lost the battle and Demons conquered the kingdom of Indra along with all three Loks.
The God of gods, Indra consulted Brihaspati, the Guru of Gods. Guru Brihaspati suggested Raksha Vidhan to Indra along with the Mantra to perform it.
On the day of Shravana Purnima Guru performed the ritual of Raksha Vidhan. During Raksha Vidhan, the Raksha Potli was fortified with sacred Mantra. After Puja, Shuchi the wife of Indra tied the Raksha Potli to the right hand of Indra. Due to the power of Raksha Potli, Indra was able to defeat Demons and get back His lost kingdom. Since then the ritual of Raksha Bandhan is performed during Shravan Purnima.
Rakhi Origin and Significance
The concept of tying the sacred thread on the auspicious day of Shravana Purnima is not new. Shravana Purnima is also considered significant to change the sacred thread among the Brahmin community. The ritual of wearing sacred thread or changing of sacred thread on the day of Shravana Purnima is known as Upakarma. Upakarma, which is a Vedic ritual, is still practiced by Hindus of the Brahmin caste.
Tradition of Raksha Bandhan
In a modern context, the meaning of Raksha Bandhan has changed significantly. It is believed to be the festival which is meant for brothers and sisters i.e. only for siblings. Rakhi has become the sobriquet of Raksha Bandhan. However, all Vedic references to this ritual are mentioned with Raksha Bandhan in UK.
Since Vedic time Raksha Bandhan is a significant ritual that is performed to ward off fear of ghosts, bad spirits, and vampires. All sorts of diseases and bad omens can be avoided by performing the ritual of Raksha Bandhan. Bandhan is a yearly ritual to get protection from all sorts of bad things which might occur throughout the year. Raksha Bandhan should be performed during Shravana Purnima after avoiding Bhadra timings. The Raksha Bandhan Puja Vidhi has been described in Vratraj. According to Vratraj, Raksha Bandhan is ritualistic tying of the thread, which protects the person from all sorts of evils. Raksha, in the form of sacred thread, is personified as the divine power that makes the worshipper fearless. It is believed that it was Shuchi, the wife of God Indra, who created Raksha to protect her husband from demons in the war. Since then Raksha is worshipped for victory, comfort, sons, grandsons, wealth, and health.
Raksha Bandhan Puja Vidhi
Raksha Bandhan in UK On the day of Shravana Purnima, a full ritualistic bath should be performed during Pratahkal before sunrise. After bath one should perform Deva and Pitra Tarpan, a ritual to appease Gods and ancestors. The ritual of Upakarma, which is famously known as Avani Avittam in Tamil Nadu, should be done in the morning. As per Vratraj, the ritual of Raksha Bandhan should preferably be done during Aparahna time. The main ritual of Raksha Bandhan involves the worship of Raksha and tying it to the wrist in the form of Raksha Potli or Raksha bundle. The Raksha Potli should be made of unbroken rice, white mustard, and gold thread. Raksha Potli should be woven with colored fabric made of cotton or woolen and should be kept on a clean cloth for the Puja. The Ghatasthapana is also suggested for Raksha Bandhan Puja.
How is Celebrated Raksha Bandhan in Uk?
Raksha Bandhan holds much significance in the life of brothers & sisters and the whole family that loved to celebrate every festival with loved ones under one roof. The Indians in the United Kingdom are known as British Indians. According to the 2011 census, the widespread religions in the UK include Hinduism, Sikhism, Islam, Christianity, Jainism, Buddhism, and Zoroastrianism.
Raksha Bandhan in UK is one of the most-awaited, mind-blowing Indian auspicious festivals. The British Indian community in the United Kingdom is the sixth-largest one in the Indian diaspora, apart from United States'States' Indian community or the Indian communities in Saudi Arabia, Malaysia, the United Arab Emirates, and Nepal. The largest British Indian group is from Punjabi, Gujarati, Bengali, Tamilian, Malayali, Marathi, and Konkani. All these people love celebrating Raksha Bandhan in the Indian style with family, friends, and relatives. Over time, Indians have become one of the largest born overseas communities of the United Kingdom.
Besides people celebrating Raksha Bandhan in UK ritualistic manner, UK's armed forces personnel came together with the Hindu communities for the Rakshabandhan celebration. The armed forces across the United Kingdom and visit temples of London, Newcastle, Liverpool, and Swindon for the ritualistic Rakhi full of customs.
In the midst of a pandemic, it's difficult to celebrate Raksha Bandhan in UK. Many people have been forced to seek out virtual means of communication in order to stay in contact with their loved ones due to lockdowns and social distancing restrictions.
We are positive that you would miss the fun of the Rakhi celebration if you are not in India with your lovely brothers and sisters. When you're in a situation like this on the occasion of Raksha Bandhan, the first thing that comes to mind is how to send Rakhi to India. You don't have to be worried about it any longer. You can send Rakhi to India online via UK Gift Portal and rejoice with your beloved brothers. In your childhood, your parents get you everything you need to enjoy the festival. However, it is difficult to handle tasks when you are on your own or not in the same country as your brother, particularly when foreign travel is halted. Staying at home and staying healthy is, of course, the best choice.
Here's your chance to throw a meaningful party. The thread that is tied to the brother's hand is the most important thing.