October 27 2023
Diwali, Dhanteras Date 2023, Puja vidhi muhurt in UK, and Mantras
Diwali, Dhanteras Date 2023, Puja vidhi muhurt in UK, and Mantras
Diwali Dhanteras Date 2023 Puja vidhi muhurt in UK and Mantras
Dhanteras Puja Date: 10th November, 2023 – Friday
Dhanteras Puja Muhurat:- 04:28 PM TO 06:05 PM
Duration – 01 Hour 37 Mins
Diwali Lakshmi Puja date: 12th November 2023 – Sunday
Diwali Lakshmi Puja Muhurat – 4:20 PM to 5:58 PM
Duration – 01 Hour 37 Mins
1) First of all, we know about Dhanteras:-
1) History & Significance of dhanteras
2) Dhavantari puja vidhi
3) dhanteras yama deepam daan
4) kuber puja vidhi and mantras
5) Lakshmi puja vidhi (rituals) and Mantras for Dhanteras
2) Diwali celebration
1) Rituals & Traditions of Diwali 2023:
2) Importance of Diwali (Diwali 2023 importance)
3) Puja Vidhi of Diwali 2023
4) Diwali puja Mantras
Diwali Dhanteras Date 2023 Puja vidhi muhurt in UK and Mantras
All about Dhanteras
1) History & Significance of Dhanteras
This day holds a lot of importance for Hindus, as it's the day when Lord Kuber and Goddess Lakshmi along with Lord Dhanvantri came out of the ocean during 'Samudra Manthan'. Not only that people also worship Yamaraj – the 'God of Death'. As per Mythology, there was a king named 'Hima', whose fate had it that his son would die on the 4th day of this marriage. However, his daughter-in-law was smart and she knew what she had to do to ward off the death of his husband. So, she took all her Gold and Silver jewelry and placed them at the main door. She also lit several Diyas to bring light into the path of Lord Yamaraj. When he came to take the soul of her husband, he was blinded by the bright light. And thus, her husband's life was spared. For the same reason, people light large Diyas on Dhanteras at the front door. This is done to ward off any untimely death in the family.
2) DHANVANTARI PUJA VIDHI
Lord Dhanvantari is regarded as the founder of Ayurveda. People pray to Dhanvantari seeking cures for diseases and good health for their family. After the ritual of bathing Lord Dhanvantari and anointing his idol with vermillion, he is offered nine varieties of grains (Navadhanya). Now chant the mantra below.
Om Namo Bhagavate Maha Sudharshanacvasudevaya Dhanvantaraye. Amrutha Kalasa Hasthaaya Sarva Bhaya Vinasaya Sarva Roka Nivaranaya Thri Lokya Pathaye Thri Lokya Nithaye Sri Maha Vishnu Swarupa Sri Dhanvantri Swarupa Sri Sri Sri Aoushata Chakra Narayana Swaha ||
Meaning: We pray to the God, who is known as Sudarshana Vasudev Dhanvantari. He holds the Kalasha full of the nectar of immortality, Lord Dhanvantri removes all fears and all diseases. He is the well-wisher and preserver of the three worlds Like Lord Vishnu. Dhanvantari is empowered to heal the Jiva souls. We bow to the Lord of Ayurveda.
BUYING GOLD ON DHANTERAS
It is a common practice to buy gold coins, jewelry, silver bowls, spoons, and glasses as well as Lakshmi & Ganesh idols in silver on Dhanteras.
Diwali Dhanteras Date 2023 Puja vidhi muhurt in UK and Mantras
Why do we buy gold on Dhanteras?
For most activities, Hindus prefer to be guided by a mahurat, the auspicious time to make purchases. Pushya Nakshatra and Dhanteras are the two most auspicious occasions when people can buy gold and precious metals. Pushya Nakshatra is ruled by Jupiter and is also the birth star of Goddess Lakshmi. Therefore it becomes the most auspicious time to bring home the Goddess of Wealth. Because of its association with Lakshmi, Pushya is the most appropriate for buying gold and jewelry. When Pushya Nakahatra mes on a Thursday, it is called Guru Pushya Yoga and when it rises on Sunday, it creates the Ravi Pushya Yoga: As per Vedic astrology, both are auspicious days the buying gold.
This auspicious occasion is said to increase prosperity in your life and thus it is suggested to wear new clothes, buy gold & silver jewelry, Lakshmi-Ganesh idols, vehicles, gadgets, Kalash, utensils, and even a broom.
3) DHANTERAS YAMA DEEPAM DAAN
Dhanteras puja also involves the worship of Lord Yama, the God of death. Lord Yama is honored with Deep Daan on this day for the protection of one's family and loved ones. After worshipping Yam Deva, 13 lamps should be lit.
Yama Deepam Daan is celebrated in the evening on 10th November 2023 – Friday
Yama Deepam Pradosh Kaal -04:19 PM TO 07:17 PM
THE FOLLOWING IS THE PROCEDURE FOR YAMA DEEPAAM DAAN:
Thirteen earthen lamps filled with sesame oil (til ka tale) should be placed outside the house, facing southwards (direction of Lord Yama), in the evening. A lamp is usually never kept facing southward except on this day. Then, reciting the following mantra, a person should offer obeisance to Yama, the Lord of Death.
Don't you want to do hassle for Diwali and Dhanteras puja? then contact Hindu priest ketul Joshi for Diwali or Dhanteras puja: +44 079 0373 5365.
त्युना दण्डपाशाभया कालेन श्यामया सह।
यो दीपदाना सूचया प्रचलनम
This means offering these thirteen lamps to the son (Lord Yama) of the Sun deity (Surya) so that He liberates me from the clutches of death and bestows His blessings
4) KUBER PUJA VIDHI
On this evening. Lord Kubera is worshipped ritualistically and offered flowers. After you have offered him incense, diya, fruits, and sweets, chant the following mantra to invoke Lord Kuber's blessings.
Om Yakshaya Kuberaya Vaishravanaya Dhanadhanyadhipataye Dhanadhanyasamriddhim Me Dehi Dapaya Swaha ||
Meaning: Kubera, the lord of yakshas, bless us with wealth and prosperity.
2. Kubera Dhana Prapti Mantra
ॐ श्रीं ह्रीं क्लीं श्रीं क्लीं वित्तेश्वराय नमः॥
Om Shreem Hreem Kleem Shreem Kleem Vitteshvaraya Namah॥
3. Kubera Ashta-Lakshmi Mantra
ॐ ह्रीं श्रीं क्रीं श्रीं कुबेराय अष्ट-लक्ष्मी मम गृहे धनं पुरय पुरय नमः॥
Om Hreem Shreem Kreem Shreem Kuberaya Ashta-Lakshmi
Mama Grihe Dhanam Puraya Puraya Namah॥
5) DHANTERAS PUJA VIDHI
Dhantrayodashi puja (Dhanteras pooja) is significant in its invocation of Goddess Lakshmi, Lord Ganesha as well as the God of wealth Kuber who are all worshipped in order to invite abundance and blessings. Lord Dhanvantari is especially worshipped on this day. Below is explained how to do Dhanteras puja at home.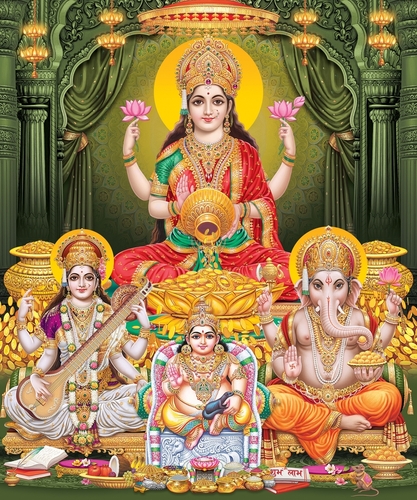 GANESH PUJA VIDHI
On Dhanteras evening. Lord Ganesh is worshipped first. His idol is bathed and then anointed with sandal paste. He is placed on a red cloth and sweet offerings are served to Ganpati Light incense and diya and offer it to the Idol. Chant the mantra for Ganesha and invoke his blessings to begin the Dhanteras Puja Vidhi.
Vakra-Tunnda Maha-Kaaya Suurya-Kotti Samaprabha
Nirvighnam Kuru Me Deva Sarva-Kaaryessu Sarvadaa ||
Meaning: O Sri Ganesha, of Curved Trunk, Large Body, and with the Brilliance of a Million Suns, Please Make All my Works Free of Obstacles. Always.
LAKSHMI PUJA VIDHI
The best time for Lakshmi Puja on Dhanteras or Dhantrayodashi is during the Pradosh Kaal which falls after sunset and lasts for about two and a half hours. In addition to worshipping the Idol of Goddess Lakshmi, you can also worship and energize the Mahalakshmi Yantra, which has powerful vibrations of Devi Lakshmi.
Before you begin, spread a new cloth on a raised platform. Place a handful of grains in the center and on this base, place a Kalash (a pitcher) made of gold, silver, copper, or terracotta. Fill three-fourths of the Kalash with water mixed with ganga jal and place a betel nut, a flower, a coin, and some rice grains in it. Arrange five kinds of leaves or mango leaves in the kalash. Place a metal dish on the Kalash and fill it with rice grains. Draw a lotus with turmeric powder (haldi) over the rice grains and place the Idol of goddess Lakshmi over it, along with the coins
Place the idol of Ganesha in front of the Kalash, in the right (South-West) direction. Also, place ink and books related to your business or occupation on the platform. Light a lamp and begin the puja by offering haldi, kumkum, and flowers to the platform on which the Kalash is placed.
Then offer haldi, kumkum, and flowers to the water to be used for the puja. Then recite the following mantra of Mahalakshmi.
Om Shreem Hreem Shreem Kamale Kamalaleye Praseed Praseed Om Shreem Hreem Shreem Mahalaxmiyer Namah ||
Meaning: Underlying Vibration of all creation, the Goddess of abundance, cherishing your lotus feet, be pleased Great Laxmi Goddess, bow to You.
Take some flowers in your hands, close your eyes, and think of Goddess Lakshmi being showered with gold coins by two elephants standing on either side and chanting Her name Then offer the flowers to the idol. Place the idol of Lakshmi on a plate and bathe it with water, panchamrit (a mixture of milk curd, ghee or clarified butter, honey, and sugar), and then with water containing some gold ornament or a pearl. Wipe the idol clean and place it back on the Kalash. Alternatively, you can just sprinkle water and panchamrit on the idol with a flower.
Now offer the Goddess sandal paste, saffron paste, perfume (ittar), haldi, kurkum, abeer and gulal. Offer a garland of cotton beads to the Goddess. Offer flowers, especially marigolds and leaves of Bel (wood apple tree). Light an incense stick. Make an offering of sweets, coconut, and fruits. Offer puffed rice and Patasha. Pour some puffed rice. Patasha, coriander seeds, and cumin seeds over the idol. Worship the safe where you keep money and jewelry as a symbol of Lord Kuber: Finally, perform the Aarti for goddess Lakshmi.
Diwali Dhanteras Date 2023 Puja vidhi muhurt in UK and Mantras
Diwali celebration
Diwali Dhanteras Date 2023 Puja vidhi muhurt in UK and Mantras
1) Rituals & Traditions of Diwali 2023:
2) Importance of Diwali (Diwali 2023 importance)
3) Puja Vidhi of Diwali 2023
4) Diwali puja Mantras
5) Aarti Shree Lakshmi ji ki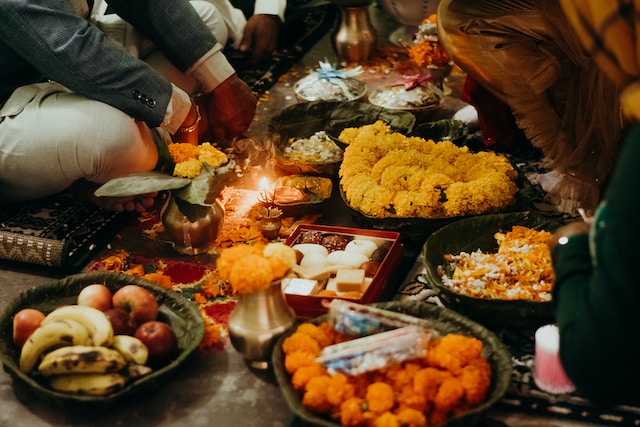 All about Diwali celebration and puja
The festival of Diwali is celebrated on the new moon day of Kartik month every year. This festival of lights is celebrated with great fanfare across the country. Lord Ganesha is worshiped along with Maa Lakshmi on this festival of Diwali, the symbol of happiness and prosperity. Along with this, the whole house is decorated with lamps, fringes, etc. According to mythology, Lord Sri Rama returned to Ayodhya after 14 years of exile after killing Lankapati Ravana. The entire Ayodhya was decorated with ghee lamps in celebration of the arrival of Lord Shri Ram, Mother Sita, and Lakshmana. Since then the festival of Diwali started to be celebrated. Let's know the Diwali date and calendar with an auspicious time.
1) Rituals & Traditions of Diwali 2023:
The Diwali festival goes with five different customs on five different days consecutively. The first day begins with "Dhanteras", which is devoted to cleaning homes and buying small gold, silver, or any utensil items. The second day, also known as Naraka Chaturdashi or Choti Diwali, commemorates Krishna's victory over Narakasura and includes prayers for ancestors' souls as well. On the third day is the main Diwali festival, also called "Badi Diwali". People worship God Ganesha and Goddess Laxmi together and they call it "Laxmi Puja".
God Ganesh is believed to be worshiped before starting a new life with his blessing for positive and good luck, whereas Goddess Laxmi is the god of wealth. They light diyas, candles, and fireworks and visit temples as well. The fourth day is the "Govardhan Puja" or Balipratipada", or Annakut, celebrating God Krishna's victory over "Indra"- king of the gods in heaven.
2) Importance of Diwali 2023:-
Every year on the day of Diwali there is a law to worship Maa Lakshmi and Ganapati Ji. It is believed that worshiping Maa Lakshmi on this day brings happiness, wealth, wealth, and prosperity.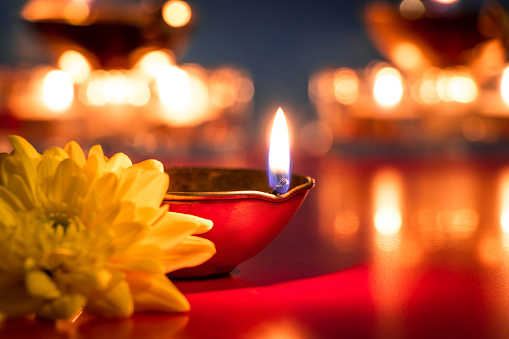 3) Diwali puja vidhi 2023 in UK:-
Diwali Puja Samagri List:
The Pooja Samagri List is practically defined as the articles and utensils that are required for the Puja to be held, and these articles are said to be highly auspicious and have important historical value. The list of the primary objects used to celebrate the Pooja is given below:
● New Murti (Idols) of Goddess Lakshmi and Lord Ganesha
● Bahi-Khata (Account Books)
● One Red Cloth for the God's Aasan
● Wooden Stool for keeping Idols
● A red silk cloth for Goddess Lakshmi, an Inkpot with a pen, and One Yellow Cloth
● Five Big Earthen Lamps
● Small Earthen Lamps at least 25
● One earthen Kalash (i.e. pitcher)
● 3 garlands made out of fresh flowers and flowers
● Tulsi-Leaves and Bilva-Leaves
● Naivedhya (i.e. Fruits, Lava(Parched Rice), sugarcane, sweets, and much more)
● Sweet Paan, at least a minimum of three
● Durva Grass
● A pen made of Bilva or Pomegranate
● Pancha Pallav, which consists of twigs from five trees
● Sarvoshadhi contains ten herbs and finally
● Sapt -Mritika, which consists of mud from 7 places.
These materials are used to proceed further with the pooja and by chanting the right mantra at the right time, prosperity is said to be bestowed upon the devotees. feeling Hassles? Just call to Hindu priest ketul Joshi for Hassel free puja: +44 079 0373 5365.
Diwali Puja Vidhi:
Observed on the third day of Diwali, which is on the 12th November 2023 – Sunday
Diwali Lakshmi Puja Muhurat – 4:20 PM to 5:58 PM
Lakshmi Puja is performed on the eve of "Amavasya Tithi". This special day which welcomes prosperity, peace, good luck, and happiness follows a specific muhurta and rituals. Are You Thinking of performing puja from a Hindu priest for more blessing and perfection in your Diwali and Dhanteras puja vidhi then you are just a way to call, contact Hindu priest ketul Joshi for Diwali or Dhanteras puja: +44 079 0373 5365.
Cleanliness and Purification Process:
Wake up early in the morning, and clean the surroundings and space where pooja is to be performed. Also, sprinkle Gangajaal to purify the house. Cleanliness not only drives away negativity but is also liked by Goddess Lakshmi who is said to visit only those houses that are always clean.
Regarded as a feminine and sacred utility in the Hindu culture, the 'broom' is honored by offering Haldi-Kumkum. Often considered as Mother Lakshmi- The Goddess of Wealth, a broom is given high respect which is why touching the broom by foot is a reflection of disrespect towards Maa Lakshmi.
Once done with the cleaning process, take a bath, and complete the self-purification or Atma Shodhan process. An auspicious bath before sunrise not only cleans one's body but also destroys the Raja-Tama components, keeping the soul focused and conscious of performing any puja Vidhi. Promising to perform the puja Vidhi with great dedication, you have to make Sankalpana by taking water in your fist.
Worship Five Deities:
Just before commencing the puja Vidhi, worship Lord Ganesha. Also known as "Vighnaharta," Ganpati Bappa is said to remove obstacles, or Vighna is one's path. Worshiping Lord Kubera, the treasurer of all gods, brings prosperity, good fortune, and wealth. Also, the three famous forms of Goddess Lakshmi are worshiped on this day. Maa Mahasaraswati; The Goddess of Learning and Books, is honored to seek knowledge and other musical skills. 'The Goddess of Wealth and Money'- Mahalakshmi is worshipped for happiness and courage. Goddess Mahakali, when worshipped with complete devotion, helps you achieve your aspirations and dreams.
Lighting Diyas and Chanting Mantra:
The radiance of light dispels darkness and spreads positivity. Hence, Diyas or earthen lamps filled with Ghee are to be placed facing the northeast or north direction. First, light the Diya in the Puja room, then at the Tulsi Vrundavan, and later at the water containers.
Here, the wick in the Diya signifies the 'soul' or the 'Atma', while Ghee prepared from cow's milk is considered to banish negativity. This Ghee is said to emit stronger divine or Sattvik particles in the air and fill your home with happiness.
Once done, join your hands and recite the Shanti Path Mantra. This mantra is generally recited at the beginning and the end of the Puja Vidhi. Start Diwali Puja with the holy mantra:
"ऊं अपवित्र: पवित्रोवा सर्वावस्थां गतोऽपिवा।
य: स्मरेत् पुण्डरीकाक्षं स बाह्याभ्यन्तर: शुचि:॥"
"While reciting this mantra, splash water or Gangajal over your posture and worship materials 3-3 times with Kusha or Pushpa. Achchaman –
Om Keshvay Namah, om Madhavaya Namah, Om Narayana Namah then wash hands.
Om Dyauh Shanti Rantariksham Shantih
Prithvi Shantirapah Shantih
om shadhayah Shantih Vanaspatayah Shantih
Vishvedevaah Shantih Brahma Shantih
Sarvam Shantih Shantireva Shantih
Saamaa Shantiredhih
Om Shaantih, Shaantih, Shaantih ||
Install the Chowki:
Now comes the installation of an altar or chowki where the puja is to be performed. Red is the color of purity, love, and Shakti, which is why you have to place a soft red cloth on the chowki. Then carefully place the idol of Maa Lakshmi along with the Lord Ganesha idol on her left side as she is his mother.
Placing the Kalash:
Just before placing a Kalash, spread a heap of rice grains in the center of the chowki, which acts as an Asana. Apply Haldi-kumkum to the Kalash and the idols. Fill the silver or brass Kalash with water, supari, coins, Akshat rice, marigold flower, and a pinch of Haldi-Kumkum, and cover the mouth of the same with Mango leaves and a coconut.
Invoke Deities with Pujas:
Followed by Ganpati Puja, worship Maa Lakshmi, Kali, Lord Kuber, and Lord Vishnu on the said muhurta. Pray with your hands joined and eyes closed. Precious items such as gold, books, wealth items, etc., are considered to be auspicious items symbolizing Maa Lakshmi and Lord Kuber.
Humble Offerings:
Starting with Padya, where you have to offer a drop or two of water to the Lord. Next is Arghya, where water is offered to the Lord, followed by Achamanam, where you have to drink the water from your palm once offered to the Lord. The idols made of metal are then bathed by offering water which is known as the Snana process. Once offered Panchamrut (Ghee, Milk, Honey, Sugar, Curd), the idols are then cleansed with water and wiped with a clean cloth.
After performing the Abhishek, offer Vastra to the Lord, which is a fresh piece of clean cloth. Finally comes the Yagnopaveeth, where you have to offer the sacred Janeyu and Akshat rice to Lord Ganesha. Offer flowers, fruits, Dhoop, sweets, and recite the mantras and Aarti to please the supreme deities, and then distribute the sweets among the devotees as Prasadam.
Praying to all these deities with dedication, devotion, and love will bless you and your family with good health, abundance, joy, and overall well-being.
4) Diwali puja Mantras:
When the puja is held and proceeds, certain auspicious and traditional mantras are sung and chanted to spread out the vibes and positivity the puja emits and the mantras are said to amplify the goodness of the puja. The three major mantras include
● The Goddess Lakshmi Mantra:
Lakshmi Beej Mantra:
Om Hreem Shreem Lakshmibhayo Namah.
● The Mahalakshmi Mantra:
Om Shreem Hreem Shreem Kamale Kamalalaye Praseed
Praseed Om Shreem Hreem Shreem Mahalakshmaye Namah ||
● The Lakshmi Gayatri Mantra:
Om Shree Mahalakshmyai Cha Vidmahe
Vishnu Patnyai Cha Dheemahi Tanno Lakshmi Prachodayat ||
These are the mantras that praise the Goddess Lakshmi and Lord Ganesha while performing the puja and they are normally chanted while performing the traditional Lakshmi Ganesh puja during the auspicious hours of Diwali. If you want to perform a puja from a Hindu priest you can invite a Hindu priest to your home and a Hindu priest will perform your puja very well. You can contact Hindu priest ketul Joshi for Diwali or Dhanteras Puja: +44 079 0373 5365.
5) Aarti Shri Lakshmi Ji
॥ Aarti Shri Lakshmi Ji ॥

Om Jai Lakshmi Mata,Maiya Jai Lakshmi Mata।
Tumako Nishidin Sevat,Hari Vishnu Vidhata॥
Om Jai Lakshmi Mata॥
Uma Rama Brahmani,Tum Hi Jag-Mata।
Surya-Chandrama DhyavatNaarad Rishi Gata॥
Om Jai Lakshmi Mata॥
Durga Roop Niranjani,Sukh Sampatti Data।
Jo Koi Tumako Dhyavat,Riddhi-Siddhi Dhan Pata॥
Om Jai Lakshmi Mata॥
Tum Patal-Nivasini,Tum Hi Shubhdata।
Karma-Prabhav-Prakashini,Bhavanidhi Ki Trata॥
Om Jai Lakshmi Mata॥
Jis Ghar Mein Tum Rahti,Sab Sadgun Aata।
Sab Sambhav Ho Jata,Man Nahi Ghabrata॥
Om Jai Lakshmi Mata॥
Tum Bin Yagya Na Hote,Vastra Na Koi Pata।
Khan-Pan Ka Vaibhav,Sab Tumase Aata॥
Om Jai Lakshmi Mata॥
Shubh-Gun Mandir Sundar,Kshirodadhi-Jata।
Ratna Chaturdash Tum Bin,Koi Nahi Pata॥
Om Jai Lakshmi Mata॥
Mahalakshmi Ji Ki Aarti,Jo Koi Jan Gata।
Ur Anand Samata,Paap Utar Jata॥
Om Jai Lakshmi Mata॥
Wishing you all a very happy and prosperous Diwali !!