November 25 2022
Planning for a Hindu wedding
Planning for the Hindu wedding ceremony on your own!
If you are Planning for Hindu wedding These are simple steps for ease of listing but we debated long and hard on the order of them and hope you see why.  Things like Hindu wedding priest selection were left out because that is obvious and your parents will likely take care of that one. because In Hindu weddings the Indian wedding priest is the third important person after the bride and groom a wedding priest/Hindu priest for weddings only knows about mantras, scriptures, and vidhi for the Hindu wedding ceremony, and how to perform a Hindu wedding step-by-step.
Now if you are Looking for the best Hindu wedding priest in Uk then you are just one call away: +44 079 0373 5365.
Now you will think why is Hindu wedding priest ketul Joshi only?
– Google Review: 4.7/5*****
– calm, Kind, friendly
– English-speaking Wedding priest
– progressive Hindu priest
– Destination wedding
– Travel all over the world
so with 100% of trust, you can contact the best Hindu wedding priest ketul Joshi in the UK!!
Planning for a Hindu wedding ceremony is the most exciting and wonderful thing. plan your wedding there you can enjoy each and every ceremony in your Indian wedding. here we have described some main points you need to note.
1. Pick a wedding date
Before you can start diving into Planning for a Hindu wedding, you need to pick a date for your Hindu wedding ceremony. There are several factors that feed into picking a date:
make sure you understand everything that goes into planning your dream wedding before you commit to the date.
Muhurat / Auspicious date: In Hindu weddings, the Hindu wedding priest or priest for a wedding will look at your time of birth and recommend an auspicious date and Time. Typically, auspicious wedding dates are between April – June, and November – December with a handful of other dates across other months. August – October is often a drier wedding season.
Weather: Depending on where you are planning to host your wedding, you may want to avoid specific seasons.
2. wedding guest count
After you have a couple of wedding dates in mind, the next step for Planning a Hindu wedding is to determine your guest count. You may formalize your guest count.
Finalizing your guest count, especially for Indian weddings, can be a challenging and heavily analytical exercise!
some of them have both sets of parents and the bride/groom comes up with a list of family members, close family friends, and friends they want to invite. Before diving into table seating and writing down every single Indian wedding guest, for the initial wedding guest list, we recommend including the family name and the number of guests. Don't forget to count the Hindu wedding priest.
Planning for a Hindu wedding with multiple events like a mehndi, Garba/sangeet, wedding ceremony, and reception, you may actually want to add a column for each event and indicate whether or not you will be inviting the family to each event. if you are Looking for the Best wedding music then contact Naina music because naina music is the best wedding music provider in the Uk: www.nainamusic.co.uk contact: +44 7950572985
3. wedding Location
Before you start searching for your perfect Indian wedding, figure out the location.
Are you going for a destination wedding or a local wedding?
Site inspection would solve the problem of location. Understand the locale to attract the guest with a great first impression. A lush green open space would be best to engage the guests.
The availability of flexible gathering space is essential for various events. A simple social gathering might involve 200 guests. However, a big Indian wedding event might be crowded with more than 600 guests.
Check whether your event would need a Banquet, Marriage Hall, or outdoor space.
The availability of wedding space depends upon the status of the wedding season. Make sure that the desired space is available on your wedding date.
Rates and Negotiations also depend on the seasons. The earlier you will book the space the better deal you may get.
4. Indian wedding budget
If you are going to an Indian wedding ceremony then be ready for a high budget as an Indian wedding has a 3-4 days ceremony so according to that you need to set your budget. as guest accommodation, venue, decoration, food, and other shopping, so set your budget accordingly.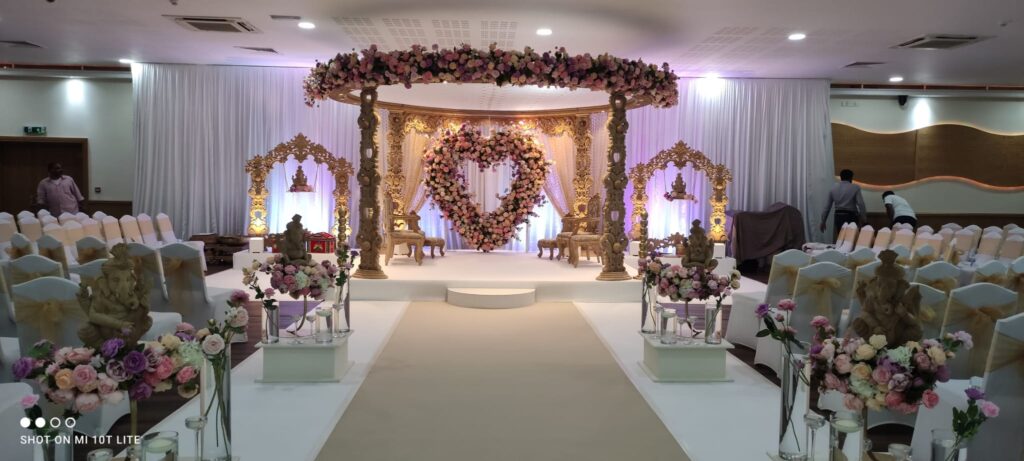 5. Wedding Theme and Flower Arrangements
Wedding themes lay the foundation for wedding decoration. Any decoration including stage setup, backdrop, entrance, and flowers falls short without a stated theme. Even the food representation style is aligned with the wedding theme.
for Indian weddings you can choose an Exotic Flower Based Theme – Jasmine, Rajnigandha, Marigold, and Rose all are made available for exotic flower themes. All these flowers add multiple pops of colors to the decoration or you can choose Royal Theme – They say marriage is a divine bond, so why not design it in golden words? A Rich Royal Theme captures the epitome of Treasured Indian Wedding Traditions.
6. Meet vendors such as DJs, Decorators, Lighting, Catering, etc…
Catering (if not using a hotel, which you should if they have a good Indian chef)
DJ sound and Lighting
Decorator
Photographer and Cinematographer
Finalize an Indian wedding priest if there is a major one in mind, otherwise, ask your parents to pick who they want or know from the family/community.
7. Now Relax and Enjoy the Most precious Day of Your Life…
You have ticked off everything on your checklist. Now all that's left to do is get married! Breathe in every last detail of the unique event you have created, laugh with your husband, hug your guests, and dance like nobody's watching. Whether it's admiring your gorgeous Mandap, or sharing a special moment in front of the camera with your partner, After all, your wedding is the best day of your life!
If you want to know about Hindu Indian wedding traditions and rituals in detail then read our article: Hindu wedding rituals/traditions.