June 07 2022
Nirjala Ekadashi 2022 in Uk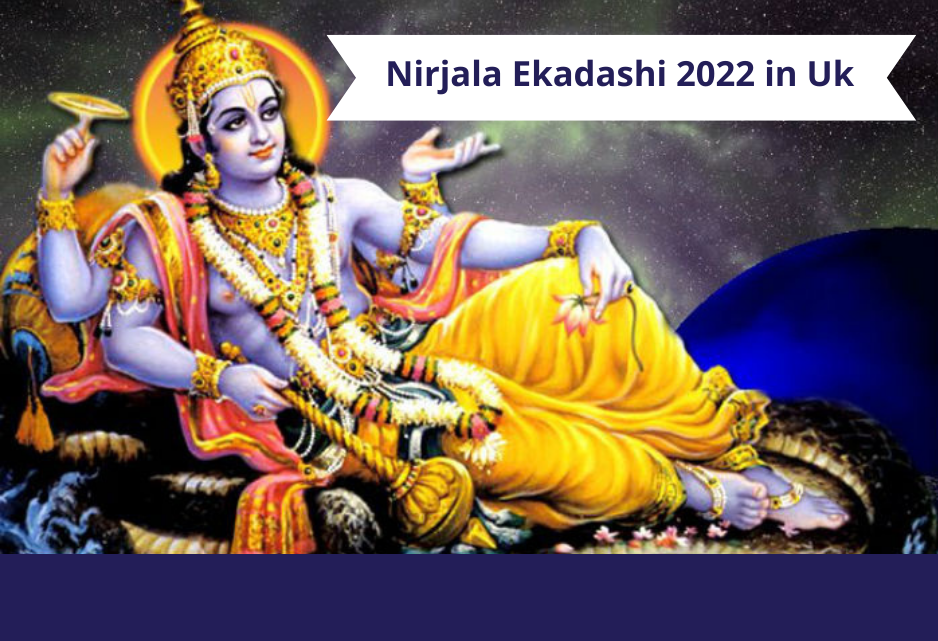 Nirjala Ekadashi 2022 in Uk
Here we have explained all about Nirjala Ekadashi 2022 in Uk
1) Date and Time of Nirjala Ekadashi
2) Benefits of Nirjala Ekadashi
3) Significance of Nirjala Ekadashi
4) Mantras for Nirjala Ekadashi
5) Vrat Vidhi of Nirjala Ekadashi
5) Vrat katha of Nirjala Ekadashi
6) Aarti of Ekadashi
Date and Time of Nirjala Ekadashi 2022 in uk
Nirjala Ekadashi on Friday, June 10, 2022
Ekadashi Tithi Begins – 02:55 AM on Jun 10, 2022
Ekadashi Tithi Ends – 01:15 AM on Jun 11, 2022
Nirjala Ekadashi vrat observed by devotees on this day is noted for its ascetic fasting and rigorous austerities. In the year 2022, Nirjala Ekadashi vrat is on June 10, Friday.
The word 'nir-Jala means 'without water' and therefore the fasting on this Ekadashi is observed without drinking water and eating food. Nirjala Ekadashi is the toughest and most sacred of all Ekadashi's and completion of this vrat with utmost devotion and austerity is equivalent to observing all other Ekadashi vrats during the year and also the most rewarding.
Benefits of Nirjala Ekadashi:
Ekadashi fast is considered to be the most prevalent fast among Hindus. There are twenty-four Ekadashis in a year, but in all these Ekadashis, the best Shukla Ekadashi is considered to be more fruitful.
The fast of Nirjala Ekadashi is extremely restrained. In this age, this fast is called complete bliss and finally salvation. Eating food is forbidden in Ekadashi of both Krishna Paksha and Shukla Paksha.
Significance of Nirjala Ekadashi:
The Nirjala Ekadashi is one of the most rewarding Ekadashi observances of the Hindus. This Ekadashi is highly pious and grants prosperity, bliss, longevity, and salvation.
The importance of Nirjala Ekadashi was explained by the great saint 'Vyas'. It is believed that Nirjala Ekadashi vrat offers the combined virtues of the other Ekadashi's to its observer. For this reason, devotees who cannot observe all the remaining 23 Ekadashi's of the Hindu year, should keep the Nirjala Ekadashi fast to get all the benefits together. It is more sacred than visiting Hindu pilgrimage places. Nirjala Ekadashi occurs before monsoons and therefore assists in purifying the body. It is also a popular belief that the observer of the Nirjala Ekadashi vrat, after death, is straight away taken to 'Vaikunta', which is the abode of Lord Vishnu.
Ekadashi Mantra:
Vishnu Mantra: Om Namo Bhagavate Vasudevaya ||
Krishna maha-mantra: Hare Krishna, Hare Krishna, Krishna Krishna Hare Hare, Hare Rama, Hare Rama, Rama Rama Hare Hare ||
Nirjala Ekadashi 2022 in uk vrat Vidhi
As this is the most important and toughest Ekadashi of all, some strict rules have to be followed by devotees, while performing the Nirjala Ekadashi Vrat.
Wake up early in the morning and perform the morning rituals like bathing and wearing clean clothes.
Visit the nearest temple to offer prayers to Lord Vishnu.
Bathe the image of Vishnu or Shaligram stone with Panchamrit (mixture of water, milk, honey, sugar, and jaggery).
Fast can be observed for 24 hours, i.e. from the sunrise of Nirjala Ekadashi to the sunrise of the next day, or only from the sunrise to sunset of the day of Nirjala Ekadashi.
Perform meditation before the image of Lord Vishnu.
Offer flowers, incense sticks, Durva grass (a kind of grass), etc. to Lord Vishnu, as the part of Puja rituals of Nirjala Ekadashi.
Intake of food and water is strictly prohibited while performing Nirjala Ekadashi Vrat.
Nirjala Ekadashi is also considered very auspicious for performing charity. Items like clothes, food grains, hand fans, and umbrellas are given to needy people.
Strict rules are followed by devotees while performing the fast for Nirjala Ekadashi. These rules may be strict for once, which might produce some short-term problems for the devotee while observing the fast. However, long term highly auspicious results are obtained from Lord Vishnu in return for devotion. Lord Vishnu will give one the power and strength to perform the Nirjala Ekadashi Vrat in 2016, as always. So, one should get ready to be a part of his immense grace, by observing the fast of Nirjala Ekadashi.
Nirjala Ekadashi Vrat Katha
The legend of Nirjala Ekadashi is connected to Bheem, who was the second and the most powerful Pandava, that is why this Ekadashi is also known as Pandava Bheema Ekadashi. He wanted to observe all the fasts of 24 Ekadashis, but he could not as he was not able to control his hunger. For finding a solution to this problem, he went to sage Vyasa and his grandfather. They advised him to only observe the Nirjala Ekadashi Vrat, because this one fast can provide auspicious results equivalent to the fast of all Ekadashi
॥ Aarti of Ekadashi ॥
Om Jai Ekadashi, Jai Ekadashi,Jai Ekadashi Mata।
Vishnu Puja Vrat Ko Dharan Kar,Shakti Mukti Pata॥
Om Jai Ekadashi…॥
Tere Naam Ginau Devi,Bhakti Pradan Karni।
Gan Gaurav Ki Deni Mata,Shashtro Mein Varni॥
Om Jai Ekadashi…॥
Margashirsha Ke Krishnapaksha KiUtapanna Vishvatarini Janmi।
Shukla Paksha Mein Hui Mokshada,Muktidata Ban Aayi॥
Om Jai Ekadashi…॥
Paush Ke Krishnapaksha KiSaphala Naamak Hai।
Shuklapaksha Mein Hoye Putrada,Anand Adhik Rahe॥
Om Jai Ekadashi…॥
Naam Shattila Magh Maas Mein,Krishnapaksha Aave।
Shuklapaksha Mein Jaya Kahave,Vijay Sada Pave॥
Om Jai Ekadashi…॥
Vijaya Phalguna Krishnapaksha MeinShukla Amalaki।
Papmochani Krishna Paksha MeinChaitra Mahabali Ki॥
Om Jai Ekadashi…॥
Chaitra Shukla Mein Naam Kamada,Dhan Dene Wali।
Naam Varuthini Krishna Paksha Mein,Vaishakha Maah Wali॥
Om Jai Ekadashi…॥
Shukla Paksha Mein HoyeMohini Apara Jyeshtha Krishnapakshi।
Naam Nirjala Sab Sukha Karni,Shuklapaksha Rakhi॥
Om Jai Ekadashi…॥
Yogini Naam Ashadha Mein Jano,Krishnapaksha Karni।
Devshayani Naam Kahayo,Shuklapaksha Dharani॥
Om Jai Ekadashi…॥
Kamika Shravan Maas Mein Aave,Krishnapaksha Kahiye।
Sharvan Shukla HoyePavitra Anand Se Rahiye॥
Om Jai Ekadashi…॥
Aja Bhadrapada Krishnapaksha Ki,Parivartini Shukla।
Indra Aashwin Krishnapaksha Mein,Vrat Se Bhavsagar Nikla॥
Om Jai Ekadashi…॥
Papankusha Hai Shukla Paksha Mein,Aap Haranahari।
Rama Maas Kartik Mein Aave,Sukhdayak Bhari॥
Om Jai Ekadashi…॥
Devotthani Shukla Paksha Ki,Dukhnashak Maiya।
Paavan Maas Mein Karu VinitiPaar Karo Naiya॥
Om Jai Ekadashi…॥
Parama Krishna Paksha Mein Hoti,Jana Mangal Karni।
Shukla Maas Mein hoye Padmini,Dukh Daridra Harni॥
Om Jai Ekadashi…॥
Jo Koi Aarti Ekadashi Ki,Bhakti Sahita Gaave।
Jan Gurdita Swarga Ka Vasa,Nishchay Vah Paave॥
Om Jai Ekadashi…॥