November 30 2021
Hindu priest for Big day of your life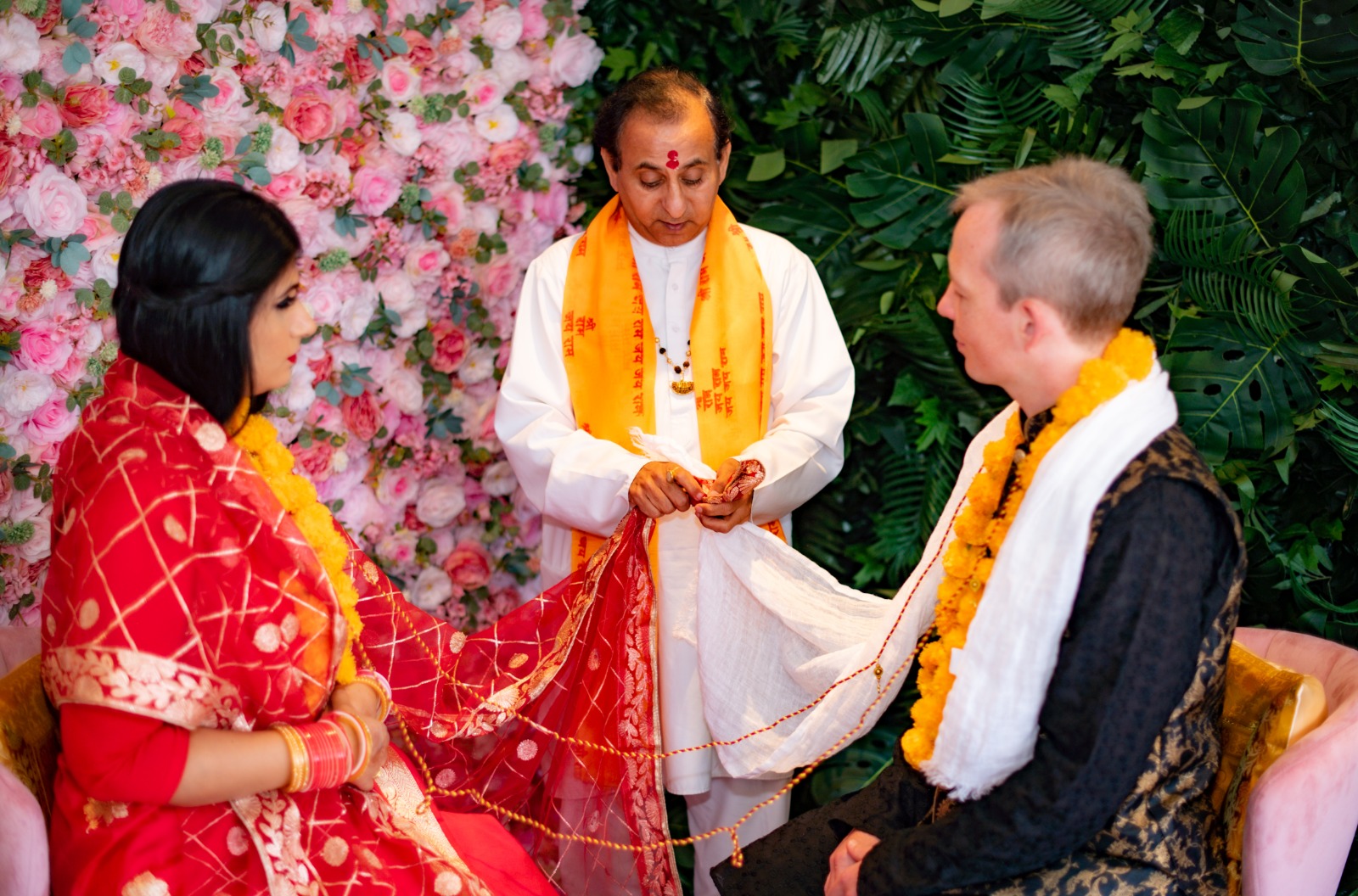 In this article, I am going to tell you about how to choose the best Hindu priest in Uk or Hindu wedding priest Uk or Hindu priest for weddings. and some FAQs about Hindu priest, And What questions you should ask the Hindu priest or Hindu priest for a wedding before your wedding?
When you are planning for your wedding, first you need to find a Hindu priest for wedding. Just think you did all preparation and in the last, you Couldn't find a wedding priest or Hindu priest….LOL !! without a wedding priest/Hindu priest, your wedding will not be complete.
So first try to find a wedding priest or Hindu priest for the wedding and then start other preparations. make sure your actual wedding ceremony is the best it can be.  And the main role plays the Wedding priest. Even if you might have a Hindu priest or the best Hindu wedding priest family members in your circle, sometimes you want some different Hindu priest for various Experiences. Hindu wedding priest cost Uk/ Hindu wedding priest cost depends on wedding priest and locations.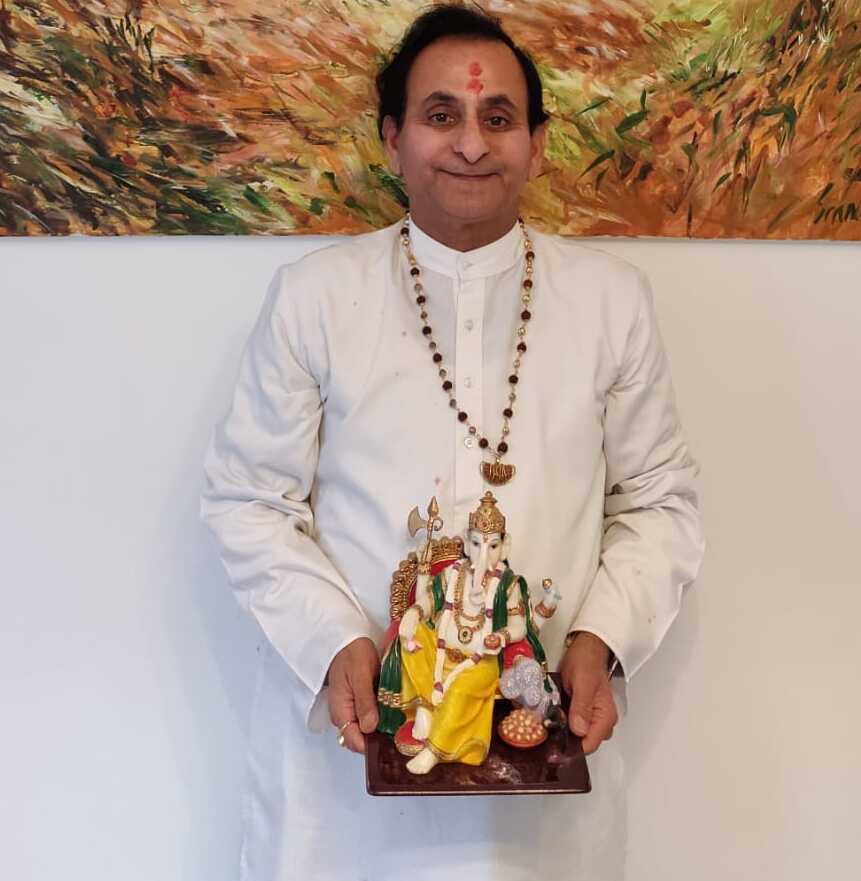 ADVANCED TIP: In a Hindu wedding, it is Rituals to have an open fire or havan at the mandap. Some of the venues may not be open to a ceremonial fire. Certain wedding venues do not allow flame because of the fire code. Other venues have time restrictions. Make sure to discuss the traditions of your wedding with the venue coordinator in advance before proceeding with the booking.
FAQs
How you should arrange a wedding priest officiant for a Hindu wedding?
If you or your relatives don't have a family Hindu priest (Hindu priest near me)or Hindu wedding priest Uk, then you can contact the nearest / local temple with details of the wedding date and venue to understand your options. or Now in this digital world, you can find in google the highest review and rating. you should ask about confirmation procedures, advance deposits required, and the cancellation or postponement process. Generally, you need to arrange at least two meetings to finalize the wedding priest.
How do you choose a Hindu priest (Wedding priest)?
A good Indian wedding priest(Hindu wedding priest Uk) does Hindu weddings monthly and knows how to balance your big day with the customs that are so important to you, your family & guests as well. Hindu priests can be funny, traditional, informative, can make Interesting your wedding ceremony.
Knowledgeable: Choose a Hindu priest (best Hindu wedding priests) who has sound knowledge of the customs and traditions of your religion. It's helpful to work with that Hindu priest(wedding priest) or Hindu wedding priest Uk who either already understands your customs or will quickly understand and figure out how to weave them in. Wedding priests or Hindu priest for wedding Ceremony must have a knowledge of shlokas, mantras, and one by one rituals of a wedding.
Professional: A courteous and professional Hindu priest will add to the ambiance at the wedding. You will need a Hindu priest or Hindu wedding priest Uk who is fully prepared, communicates with all of the pooja samagri needed, and arrives on time in order to ensure a hassle-free wedding.
Experienced: Ask for Indian priests who have prior experience in Gujarati / Marathi / Punjabi weddings or South Indian weddings. If you have family traditions that you wish to follow then make sure to communicate these to your priest before the wedding day.
While booking a Hindu priest, make sure you mention any pre-wedding or post-wedding pujas that you want him or her to conduct.
Don't want to read and just need to book a best Hindu wedding priest? We have the most experienced, courteous, and professional Hindu priest ketul joshi.
Which questions should you ask the Hindu priest before the wedding?
That doesn't matter which trends or ceremonies you follow, every wedding trend is different. This holds true even for the Hindu priest or Indian wedding priest.
You may ask the following questions before the wedding to the Hindu priest :
– If you are getting married in a temple, then you may ask whether you would be allowed to take photographs at the temple premises.
Some temples may not allow photography or videography.
– For a temple wedding, ask the Hindu wedding priest about décor possibilities also, mainly floral decorations; alterations in décor that you are allowed to do; the charges for the décor updates; and if you can see the décor beforehand.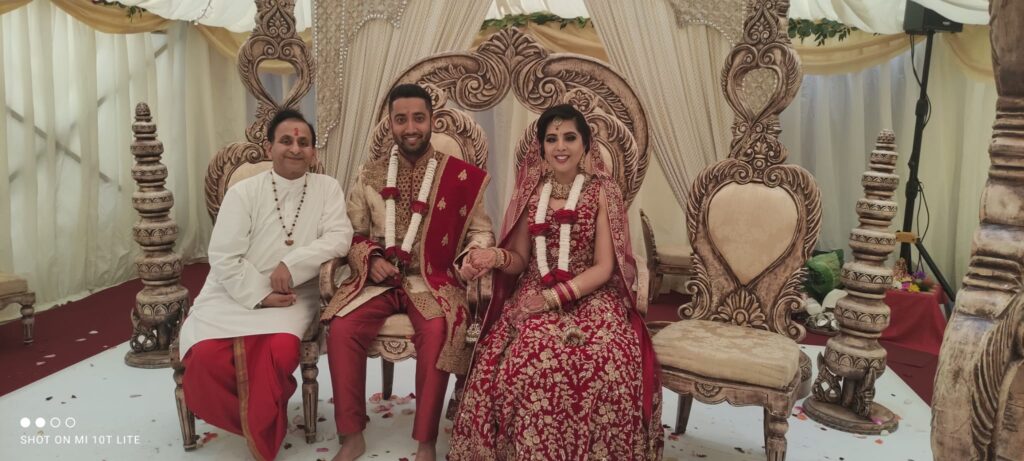 – Discuss the charges for a wedding ceremony.
– What pooja samaan is the wedding priest (Hindu wedding priest UK) responsible and what items should the family/couple arrange for?
– What are the auspicious dates and times available for the wedding? Can we opt for our own choice of date and timing instead of following the mahurat?
What languages do Hindu priests speak?
Sanskrit is generally what the rituals are performed in.
However, most Hindu priests will translate this into Hindi, Gujarati, or English.
Make sure your wedding priest has knowledge about the language that you are comfortable with.
How long does a Hindu wedding ceremony take a Hindu priest last?
While traditional Hindu weddings could easily be 3-4 hours, contemporary weddings can be cut down to 1-2 hours, depending on the rituals.
Do Hindu priests offer various services?
Yes, Hindu priest offers many services, It depends on the priest, some Hindu priest provides limited services some Hindu priest has all over knowledge so they can provide all Hindu rituals services.
Hindu priest Ketul Joshi provides the below services.
Hindu priest services: wedding ceremony, Funeral Services, Griha Pravesh, Nava Griha Pooja, Satyanarayan Katha, Gayatri Hawan, Astrology services, Sagai Vidhi, Baby shower, Janoi vidhi, Randal maaa na lota, Shiv Puja, Bhagvat Sapta, Garud Puran.
How long does a Hindu wedding ceremony last?
While traditional Hindu weddings could easily be 3-4 hours, contemporary weddings can be complete within 1-2 hours. Depends on the wedding priest. In the Uk, generally Hindu weddings start in the morning or early afternoon and end in time for lunch.
Do you have to arrange items for the puja ceremony?
For the Grah-Shanti havan or Ganesh puja and the main wedding ceremony, your wedding priest may give you a list of items. Discuss with your wedding priest if he can arrange for the items or whether you are responsible. It will be difficult to find a havan kund, wood for the ceremonial fire, or a special type of coconut last minute, so may sure you and the officiant are prepared.
How should you prepare for the pandit's meals?
Usually, the Hindu wedding priest will have a meal pure vegetarian without any onions or garlic and something sweet or prasad from the ceremony. Make sure you understand the specifications and talk to your caterer about special preparation for Hindu wedding priests.
Do they remember to use the mic?
A lot of wedding priests forget that beyond the 5 people in the mandap, 200 other people are watching, trying to follow the proceedings and not fall asleep.
Make sure your Indian wedding priest for the wedding remembers to engage with the sound system. because wedding priests must have sound systems otherwise guests won't be able to hear to wedding priest properly.
How Much Does a Hindu wedding priest cost in the UK?
For a Hindu wedding ceremony, most Indian wedding priests cost
between £800 To £3500.
If you're having a destination wedding you'll have to add on travel and accommodation.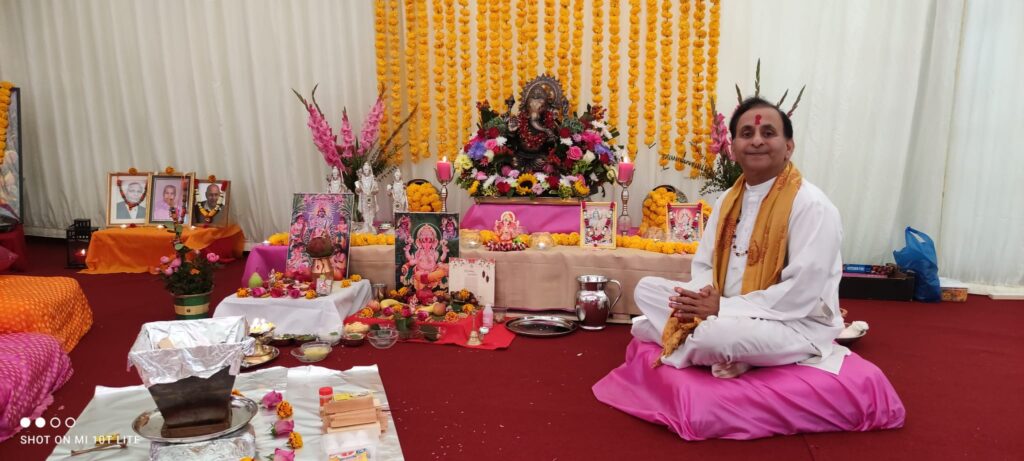 Can a wedding priest officiate an online wedding ceremony?
Yes, during these pandemic situations an Indian priest for a wedding can officiate your wedding on a Zoom call in the presence of witnesses. Just coordinate with your wedding priest and make sure you have the right technology set up to support the virtual wedding.
Which rituals will the Wedding priest perform at a wedding?
The wedding priest will be in charge of conducting the following rituals, but you should always let him (wedding priest) know of any additional pujas or rituals.
Pre-wedding
Ganesh pooja or Sundar kand
Mangni or engagement
In addition, a wedding priest or Hindu priest for wedding ceremony may also be required for Mehendi (henna) or chooda ceremony where the bride wears red bangles given to her by her maternal uncle
Wedding
The wedding priest will play the main role on the wedding day as only the wedding priest will guide and perform all ceremonies and rituals.
– Havan or sacred fire,
– Jaimala or exchanging of garlands,
– Kanyadan (giving the bride away),
– Gath Bandhan or tying wedding knot,
– Mangal Pheras or Saptapadi (walking around the fire and taking seven vows),
– Applying sindoor or red powder on the bride's center parting of hair by the groom.
Understanding Hindu Wedding Traditions
A Hindu wedding ritual is steeped in tradition, and the rituals are important to the culture of the couple and the couple's family. Because of this, learning a bit about what to expect at a Hindu wedding ceremony can be important if you are new to all of it.
Conclusion
Marriage is not a contract, a wedding is considered one of the sixteen traditional sacraments. As such the concept of divorce does not exist. wedding is a Holy bond between husband and wife. after the complete wedding ceremony, the bride and groom take the blessings from God, Hindu priest, parents, and relatives.